29 Dec
The United States Citizenship and Immigration Services (USCIS) recently released its inaugural issue of "E-Verify Connection," an online publication that aims to provide news and information regarding E-Verify.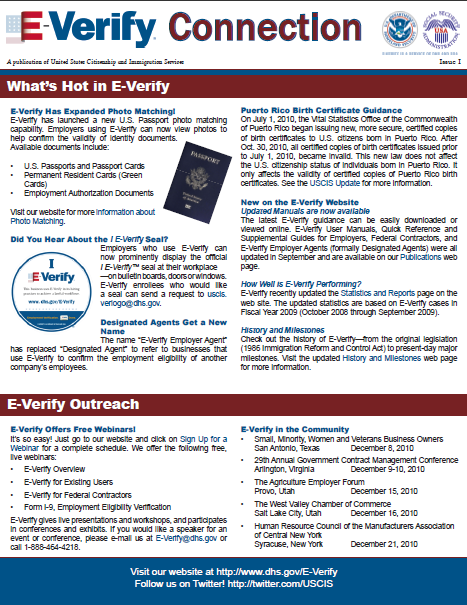 This first issue includes a summary of E-Verify's expanded photo matching functionality, guidance on which Puerto Rico birth certificates are acceptable for the Form I-9 and E-Verify process, and information about the E-Verify outreach program including webniars. You can access a full copy of E-Verify Connection from the USCIS website here.
In other E-Verify news, in yesterday's Federal Register the USCIS announced a 60 day comment period on the E-Verify Program Data Collection. Comments are due February 28, 2011. If you're interested in commenting on how to improve the E-Verify data collection process, you can send send your feedback to: Department of Homeland Security (DHS), USCIS, Chief, Regulatory Products Division, Clearance Officer, 20 Massachusetts Avenue, NW., Washington, DC 20529- 2020. Comments may also be submitted to DHS via facsimile to 202-272- 0997 or via e-mail at rfs.regs@dhs.gov. When submitting comments by e-mail, please make sure to add E-Verify Program Data Collection in the subject heading.